Nowadays, in our world of technologies and mega structures mega projects are taking place. The reason to such a fast progress is shift of Dubai government from oil-based economy to tourism which lead in establishment of Dubai Land which resulted in real estate boom. Construction and launch of mega projects supported economic growth of the country and established Dubai as the fastest developing city in the world, and one of the most popular tourism destination. A large number of mega projects are under construction, at the moment, taking into consideration Expo2020 preparations. Let's take a look at some of the mega projects in details.
Museum of the Future 
"The future belongs to those who can imagine it, design it, and execute it. While others try to predict the future, we create it". Museum of the Future will be a kind of a bridge between present and future, now and future high-tech technologies. This project aims not only to share knowledge on the future but to offer advanced courses and specialized workshops, public talks and events. It is also planned that this project will host innovation facilities and design studios with universities, companies, and research partners. The whole building will be build using 3D technologies and planned to change over time to reflect future changes.
Aladdin City
Aladdin City project is inspired by the old tales. From the 11th century, of Aladdin and Sindbad. This project is planned to be completed in the end of 2018. This stunning project will include commercial offices together with luxurious hotels. The location of the project (Dubai Creek) will have a global cultural and historical impact and pride for generations.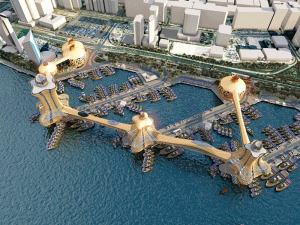 MBR City 
Mohammed Bin Rashid City is another one of the biggest Dubai mega projects that focuses on 4 components: theme parks, retail, art and an environment for sustainability and entrepreneurship. Mohammed Bin Rashid City project will be a home to crystal lagoon, world's biggest mall, public beaches, world's biggest indoor ski slope, and breathtaking architecture. This project is unique as will combine Arabic, Mediterranean, and Contemporary designs. Each area will be specifically designed to provide this feeling of uniqueness. MBR City project will also be popular among active people as it will have 9 kilometers of jogging, cycling, and walking trails. This project can be truly considered as the city within a city.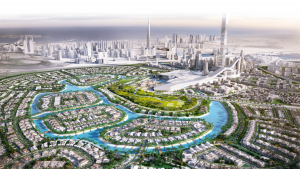 Dubai Creek Harbour 
Dubai Creek Harbour will open totally new vision of Dubai. It will have 5 major attractions, which differs Dubai Creek Harbour from other Dubai projects or places of interest. This project is situated close to Ras Al Khor Wildlife Sanctuary which will make flamingos your daily neighbors. Japanese cherry blossom will enwrap the whole neighborhood with its soft and sweet smell. Giant man-made trees will surround the area which will make you feel as if you are in a fairytale. Not to mention watery wonders, Dubai Creek Harbour will have one of the largest choreographed fountain system, in the world. But the main attraction of Dubai Creek Harbour, its zest is new the world's tallest building. The Tower will become a spectacular centerpiece of Dubai Creek Harbour and will surpass the famous Burj Khalifa.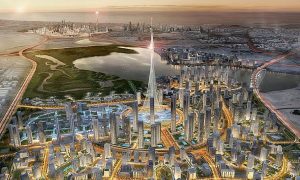 Dubai, with its numerous off plan projects, is becoming more and more attractive to international investors. Now, is the right time to invest into Dubai real estate. Need help of a professional property advisor? Contact Universal Prime Real Estate at 04 277 8034 and get all needed information.