What is summer? According to Wikipedia, summer is the warmest season of the year, in the northern hemisphere from June to August and in the southern hemisphere from December to February. But when it comes to Dubai temperature and Dubai apartment – the whole different scenario applies. According to the calendar, summer months in Dubai are May-August. Nevertheless, at times it is difficult to differentiate when the summer season has started already as the temperature does not change much (in between spring and summer).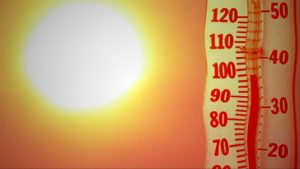 Summer madness 
Together with the temperature increasement the temperature inside Dubai apartment increases as well. Correspondingly, people start using AC more and more…to the degree when they leave it on 24/7. So what can be done, in order to keep Dubai apartment cold when you don't want to use AC much? There are some secrets which Universal Prime is ready to share with you.
Whether you're living in an apartment, villa or townhouse in Dubai, it is essential for you to know some simple tips you can do to make your home summer proof which helps cut down your utility bills.
Summer tips 
In order to keep Dubai apartment cold throughout hot summer you should follow these tips and make it a habit. First of all, start with keeping your curtains closed. It will keep the area cooler. Another alternative to curtains is bamboo blinds. They block outdoor heat and can keep Dubai apartment cool.
If you don't want to make such drastic changes to your interior – invest in windows. It can be the right timer to get window tint as it reflects sunlight and keeps Dubai apartment cooler at a lower cost.

Image Source: www.ultratint.com.ua

Instead of the AC try using ceiling or air fan. It will keep air circulating 24/7, plus cool the air down and make the area more pleasant for time spending.

Image Source: www.wired.com

If you can't imagine your life without the AC – make sure it is clean and has minimum dust inside. Do regular cleaning of the AC filters, at least every month, to make sure it works properly and cools down the air using its 100% capacity.

Image Source: www.taskmasters.ae

Change your bed sheets daily. It will bring some freshness and feeling of coldness into your night.

Image Source: huffingtonpost.com.ua

Apply a sealant or weatherproofing device, for your Dubai apartment, around all doors and windows to keep the chilled air inside the apartment.

Image Source: www.designingbuildings.co.uk

Unplug all devices, if not in use. It is known that any plugged-in device radiates a certain amount of energy. Get into the habit of unplugging anything that's not needed.

Image Source: www.greencityplumber.ca
Our Dubai apartment is the place where we spend majority of our time. That is why it is important to make sure that we are comfortable and chilled, being at home. Follow our tips on how to make Dubai apartment cold, during summer, and we will make sure that this summer is the coolest you ever had.